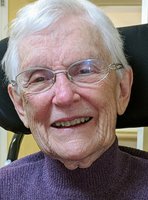 Elma Foster
Peacefully passed into her Lord's loving arms on the morning of January 1st, 2021 at Port Perry Place Long Term Care home in Ontario. She was in her 89th year. Elma was born to Ada and Percy Cumming in 1932, in South Gower, Ontario and was raised on the family farm in the Ottawa Valley. Devoted and beloved wife of the late Rev. Dr. Charles Foster, loving mother of Rob (Bev), Paul (Shannon), Janine (Bryan), Judy (Stephen) and Pierre (Nilza). Proud grandmother of Aimee (Jon), Jeremy, Mark and Josee (Jared), Cody (Kaelani), Brett, Christianne and Liam-Patrick, Alexandra, Andrew and Benjamin, Caelan (Monica) and Brayden (Sanni). Great-grandmother to Rhea, Elise and Samuel. She will be sadly missed by her sister, Roberta Cumming, and will now be rejoicing with her other siblings the late Eva Lou Graham, Dwight Cumming and Bruce Cumming.
Elma held a nursing degree from the Royal Victoria Hospital School of Nursing in Montreal. She worked as a registered nurse in Quebec, Ontario and Africa. In the early '60s she worked at the first dialysis unit in Canada, while in the '70s she worked under Dr. Balfour Mount, in the first palliative care unit in the country. Elma held positions of responsibility as nursing instructor and supervisor in Montreal and Quebec City. Towards the end of her career, she served the greater Kingston area as a palliative care nurse. As a practitioner, Elma was known for her kind and caring manner.
While in Montreal she met her very best friend and life partner, Charlie, and established her growing family. She had a knack for balancing the responsibilities of family life with her work schedule. Elma was independent and adventurous. She embraced the excitement of moving towards next ministry goals in concert with her husband's sense of God's leading.
With quiet determination, she sought to create a stable and nurturing homelife while moving from Quebec to France, and back to Ontario. In the '90s Elma and Charlie served in the Congo for two years with Canadian Baptist Ministries.
Elma's sense of humour and self-effacement made her a sparkling and warm person. She loved learning. She studied "La civilisation française" in a French as a second language course at the Sorbonne University in Paris, and exchanged ideas with Francis and Edith Schaeffer at l'Abri, in Switzerland. She pursued further studies in psychiatric care and psychotherapeutic counselling. As a friend, she was known for her abilities to engage by listening intently, and deeply.
Above all, Elma sought to follow her Lord Jesus Christ, learning from Him and allowing her character to be shaped into His likeness. For Elma, the Bible was the source of her spiritual discipline and steadfastness in the face of life's ups and downs. We will greatly miss this quiet, generous, bright and spirited woman of God. Her final years of struggle with Alzheimer's were tempered by the tender care of her husband and family. A special thank you to the Port Perry Place staff and Dr.Tse for the remarkable care they gave Elma over the past five years and especially during her last weeks.
In light of COVID-19, there will be a small private Service attended by immediate family and live streamed for relatives and friends on Saturday, January 9, 2021 from Uxbridge Baptist Church. The live stream will become available at 10:50 a.m. (CLICK TO THE RIGHT >>>) https://www.youtube.com/channel/UC2gcoYAIbokNszHP2cTRe3A with the service start time at 11 a.m. Donations in memory of Elma may be made to Canadian Baptist Ministries or a charity of your choice. Arrangements have been entrusted to the Wagg Funeral Home, 216 Queen Street in Port Perry (905-985-2171).