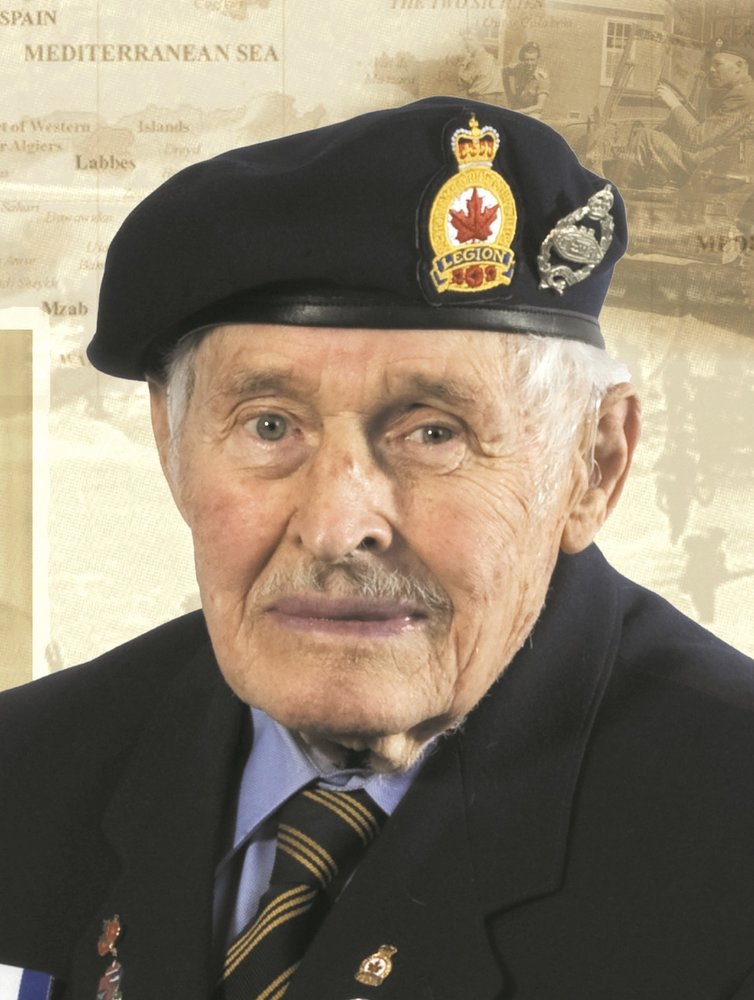 Obituary of Vernon Asselstine
Vernon Asselstine, beloved husband of Vera (nee Chaplin) for more than 78 years, passed away peacefully at age 100 on Tuesday, January 16, 2018, in Scarborough. He was the loved father of Gerald, Alan (Mary), Les (Marilyn), Doug (deceased), Donna (deceased), Floyd (Ruth), Colin (Christine) and Teresa (Max Meer). Vernon will be missed by his 9 grandchildren and 12 great grandchildren.
Vernon was born on April 14, 1917 in Moscow, Ontario. He grew up along with siblings Ronald, Bryden, Eileen, Fern, Victor and Isla. He left school at a young age and worked at several jobs during the depression. In 1939, he and Vera married and went on to establish a home in Oshawa. Training as a welder helped Vernon while he served during World War 2 and later when he worked at General Motors. After the war, Vernon came home to Vera who was managing their home and caring for their three boys. By the time they had four boys, they decided to move to their farm in Cartwright Township and continued to expand the family with two more boys and their daughter, Teresa.
In addition to factory and farm work, Vernon decided to start a business selling snowmobiles along with sons Doug and Floyd. He and Vera worked in the business until they retired and Asselstine Country was taken over by Floyd and Ruth. At the same time, Vernon became involved in local politics. That included serving on the Port Perry Hospital Board and the Children's Aid Society.
When true retirement came, Vernon and Vera enjoyed time at their cottage near Kingston and their winter home in North Fort Meyers, Florida. In later years they moved to a house in Port Perry and then to an apartment at Port Perry Villa. For the past two and a half years they have resided at Altamont Care Community in Scarborough.
Although Vernon had limited schooling, he gained an extensive education through life while he and Vera lovingly raised a family and supported their community.
Friends and family are invited to a celebration of Vernon's life on Sunday, April 22nd at the Port Perry Legion, 484 Bay Street, Port Perry. The celebration is scheduled for 12:30 – 4 p.m. with lunch provided along with a tribute session at 2 p.m. and an opportunity for informal sharing of memories.
Memorial donations may be made by cheque to the Port Perry Hospital Foundation.
Memories, photos and condolences may be shared at www.waggfuneralhome.com