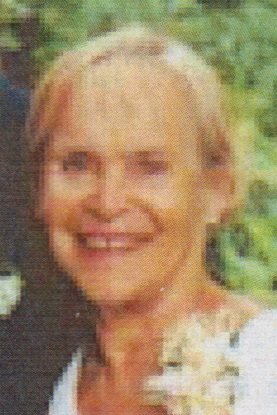 Obituary of Sirkka-Liisa White
December 3, 1931 – February 19, 2018
It is with a heavy heart we announce Sirkka-Liisa White passed away at Victoria Manor in Lindsay.
Born in Suojarvi, Finland to parents Arajva and Lilli Peltonen. Sirkka-Liisa immigrated to Canada after the war, and on entering Canada in 1958 was employed by the Ministry of Health in a clerical position. She spoke five languages, which enabled her to help other new immigrants to Canada.
Liisa met her first husband David Ryan in 1958, and was married in November of that year. They built a home together in Nestleton and lived there until his passing due to cancer in 1988. Many years later she met her second husband Earl White and married him on September 4, 2002. They remained happily married until his passing in 2013. After living for 40 years in Nestleton, Liisa moved to Lindsay and called Victoria Manor home.
Liisa had many talents she enjoyed throughout the years including being a dental hygienist and a member of the Pine Ridge Garden Club, as she loved her flowers. Liisa was also interested in art, crafts, photography, reading, travelling, sewing, and was a wonderful seamstress who made her own high quality clothing. She was an outdoor enthusiast who loved to downhill ski, cross country ski, swim, and camp. She was a fan of ballroom dancing, and met Earl White in Lindsay at a dance.
A lover of animals, especially dogs, Liisa would always stop and pet anyone's animal. She loved nature above all. She would stop and talk to you along the road to see how you were doing. She was very proud to say she accomplished many things throughout her years and enjoyed life to the fullest, and was always willing to give advice as well.
We would like to thank all the PSW's for the care Liisa received including Castle Keep Retirement, Paramed, and CCAC over the last few years. You have been amazing to give her comfort and just to talk about every day events, especially Chester Hartman who would call Liisa twice a day, (a volunteer for Community Care). The many Doctors who cared for Liisa, I am grateful for your input as well as the knowledge I have received on looking after Liisa with dementia. If it was not for you, I would have been at a loss, knowledge is powerful.
Liisa leaves behind her sister Marja and her husband Hans Korpella, and her good friend and neighbour Debra Stephenson. It has been my pleasure and a privilege to look after you. I have enjoyed our talks and walks, and will truly miss you, my friend. So rest in peace and be with your beloved Earl White.
Private arrangements have been entrusted to the WAGG FUNERAL HOME, 216 Queen Street in Port Perry (905-985-2171).
If desired, memorial donations may be made by cheque to the new Uxbridge Scugog Animal Shelter, the Alzheimer Society of Durham Region or a charity of your choosing. Memories, photos and condolences may be shared at www.waggfuneralhome.com