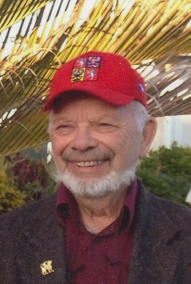 Obituary of Jock McAndrews
JOHN HENRY McANDREWS
"JOCK"
January 16, 1933 – July 21, 2023
Jock passed, peacefully and with family at his side, on Friday, July 21, 2023, in Port Perry, Ontario. He leaves his wife Sharon Hick and their children John (Penny) and Mark (Brianne), his children Katherine, Joseph (Cindy), Peter (Stephanie) and Willem (Darlena), and his much-loved grandchildren, great- grandchildren, and friends.

Jock was born in Minneapolis, Minnesota, on January 16, 1933. He received his PhD from the University of Minnesota in 1964 and began his career at the Royal Ontario Museum (ROM) in 1967. He retired as Curator Emeritus of Botany at the ROM and Professor Emeritus of both Earth Sciences and Ecology and Evolutionary Biology at the University of Toronto. Jock specialized in the study of lake-bottom fossil pollen grains and their role in understanding past environments and landscapes. He remained academically active, engaged, and curious throughout his long life. In early July, he was pleased to learn that Crawford Lake (near Milton, Ontario) -- the lake that was long the focus of his pollen studies -- had been selected by the Anthropocene Working Group as the candidate site to define the Anthropocene as an epoch. His co-authored publication Key to the Quaternary Pollen and Spores of the Great Lakes Region (ROM, 1973) remains a highly cited work today. Jock had many friends and colleagues in Ontario's archaeological community and was a long time and enthusiastic member of the Brodie Club, one of Toronto's natural history groups. His botanic enthusiasm carried over into the name of his dearly loved cottage, Dunpollen, in Codrington, Ontario, where he grew an extensive vegetable garden and, over the many years, 'repaired his repairs.' In 2010, Jock and Sharon moved from Toronto to Port Perry where they have greatly enjoyed the small-town living.

Jock had many exceptional caregivers these past few months and the family extends its heartfelt thanks to all of them. Jock was buried at the Pine Grove Cemetery in Port Perry on July 31. A reception to celebrate Jock's long and productive life will be held on Saturday, October 21, 2-4 p.m., at the Munk School, Campbell Conference Facility, 1 Devonshire Place, University of Toronto.